Introducing the first Micro Four Thirds lens from Tamron:
High-power all-in-one™ zoom in a choice of two colors.
Developed by Olympus Imaging and Panasonic, Micro Four Thirds is a new system standard for compact mirrorless interchangeable-lens cameras that enables users to capture high-quality images using smaller, lighter equipment.

Now, Tamron has expanded the possibilities of the Micro Four Thirds system with an innovative 14-150mm zoom lens (equivalent to 28-300mm in the 35mm and full-frame formats).

This high-performance 10.7x zoom makes it easy to compose and capture sharp pictures over a very wide range of shooting conditions. It's ideal for travel, family, and creative photography.
10.7x high-power zoom lens for Micro Four Thirds cameras
A single lens that can capture almost any subject in exquisite detail
Tamron's first all-in-one zoom lens for Micro Four Thirds mirrorless interchangeable-lens cameras covers an extended zoom range from 14mm wide-angle, to normal, to 150mm telephoto, and enables macro/close-up shooting.

This 14-150mm zoom is a perfect travel companion for capturing beautiful images of virtually any scene, and is especially useful for shooting when traveling abroad where compact size and light weight are essential.

This lens captures memorable images of family events without missing a single precious moment.

About Micro Four Thirds >
Stylish metal lens barrel has a luxurious appearance and is a hallmark of high quality construction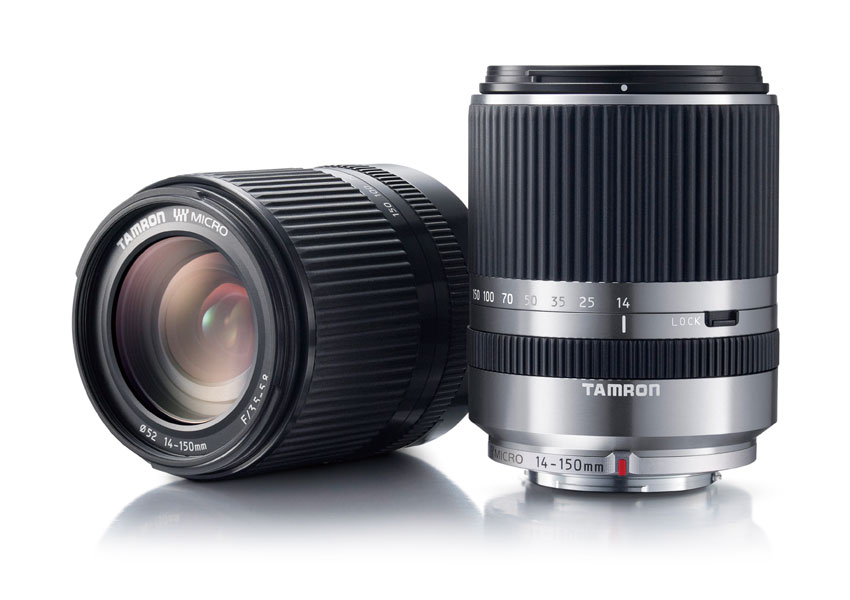 In color and finish alike, the elegant and stylish lens design complements the design of today's leading Micro Four Thirds cameras. Luxurious brushed metal finish accentuates the elegance of the exterior design. It's available in black or silver finish.
The essence of Tamron technology in a compact, all-in-one™ zoom that minimizes aberrations and maximizes image quality
The optical design of this lens includes one LD (Low Dispersion) glass element, two AD (Anomalous Dispersion) glass elements, two Molded-Glass Aspherical elements, and one Hybrid Aspherical element. This formula reduces aberrations to a bare minimum to achieve exceptional class-leading image quality. The 14-150mm zoom is the fruit of Tamron's 20+ years of experience in designing and manufacturing world-class all-in-one zoom lenses.

Building an impressive 10.7x zoom range into an ultra-compact lens body is made possible by adopting a more sophisticated multi-stack-cam layout. This advanced cam layout draws on Tamron's extensive engineering expertise, which is focused on innovative space-saving zoom cam structures.
A Stepping Motor for quick, quiet auto-focusing
The stepping motor's actuator allows precise control of angular rotation, and since it drives the focusing mechanism directly without any intermediary reduction gear, it is also exceptionally quiet.

These features also give the lens a seamless, fluid auto-focusing action when shooting video.
Technical Information
Specifications
Model
C001
Focal Length
14-150mm
(equivalent to 28-300mm in the 35mm / full-frame format)
Maximum Aperture
F/3.5- 5.8
Angle of View (diagonal)
75°22'- 8°15' *1
Lens Construction
17 elements in 13 groups
Minimum Focus Distance
0.5m (19.7in)
Max. Magnification Ratio
1:3.8 (at f=150mm: MFD 0.5m)
Filter Size
Φ52mm
Length*2
80.4mm (3.2in)
Diameter
Φ63.5mm
Weight
285g (10.1 oz)
Diaphragm Blade Number
7 (circular diaphragm)*3
Minimum Aperture
F/22
Standard Accessories
Flower-shaped lens hood, Lens caps
Compatible Mount
Micro Four Thirds
Specifications, appearance, functionality, etc. may be changed without prior notice.

*1 Case of aspect ratio "4:3"
*2 Length is the distance between the front tip of the lens and the mount face.
*3 This circular diaphragm retains a nearly circular shape even at two stops down from the maximum aperture.
Release Date
2014/06/26*
* "Mirrorless interchangeable-lens cameras" are also known as "Compact System Cameras".
This product conforms to the "Micro Four Thirds System Standard" established by Olympus Imaging Corporation and Panasonic Corporation.
Micro Four Thirds™ and the Micro Four Thirds logo marks are trademarks or registered trademarks of Olympus Imaging Corporation, in Japan, the United States, the European Union, and other countries.
The company names and product names in this web site are the trademarks or registered trademarks of their respective owners.
MTF Chart Guide
MTF  
Optical Construction
(* Prices Subject to change without prior notice.)